Pumpkins,
Pumpkins,
Pumpkins.................
Help !!!!!!! Too Many!!!! Not a Chance.......
Out front on the front bench.
There are real and faux pumpkins....
Pumpkins in my quilt............
Pumpkin Patch sign....... Now here's a easy peasy project..
$ store plaque $ 2.00
paint I have on hand
Stencils easy to download.
tracing paper.
First I painted the plaque brown. Then I added the orange all over.
Added some more brown then it's time to trace on the stencil.
Then I free hand painted the letters in dark umber. Once they dried I used a beige
paint and highlighted the letters. Once that was all dry I gave it a light sanding.
Too Cute!!!!!
Just the right size to hang off my pumpkin.
Now here's another easy peasy chalk sign.
Use the same plaque from the $ store and
paint it with chalk paint. I gave mine two coats of paint. Once dry I used a chalk marker.
Trick or Trick!! You can tell that I did this free hand....
That's it folks !! So easy.
Now in my front foyer I have faux branches and mini pumpkins with some bittersweet and
added in some pinecones in my white urn that I used outside.
it up .
Then I hung my pumpkin quilt off to the side. A corner vignette.
Have a Great Pumpkin Day!!!
Thanks so much for stopping by and leaving your comments.
Linda
I'm linking up with :
DebbieDoo's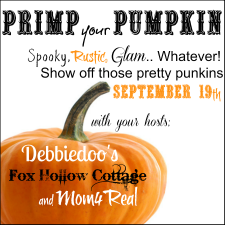 Stone Gable Tutorials and Tidbits
Falling for Fall with Southern Hospitality